S4C Data & Viewing Figures …
~~~~~~~~~~#########~~~~~~~~~~
.
OF WALES & THE WELSH
.
S4C Data & Viewing Figures …
.
~~~~~~~~~~#########~~~~~~~~~~
Posted by:
Greg Lance – Watkins
Greg_L-W
eMail:
Greg_L-W@BTconnect.com
ControversiallyGreg@Gmail.com
The BLOG:
https://InfoWebSiteUK.wordpress.com
~~~~~~~~~~#########~~~~~~~~~~
.
Hi,
You can obtain data on S4C at: http://www.s4c.cymru/en/
including viewing figures:
http://www.s4c.cymru/abouts4c/viewing/e_index.shtml
However, you can get a top 10 breakdown for ANY week from the BARB website:
Go to: http://www.barb.co.uk
At the top of the screen, click 'Viewing Data'.
Click 'Weekly Top 10 Programmes'.
In the box that says 'Channel', scroll down to S4C.
In the boxes on the right, highlight the year, month and week you want, and click 'view figures'.
The data then appears right below.
BARB is the industry-wide recognised body for compiling viewing figures.
BARB releases the top 15 programmes for each channel.
On w/e 29-Jul-2019
#S4C
's 15th most watched programme was 'Y Brodyr Coala' with 16,311 viewers.
I dread to think how low viewing figures were for programmes 20, 30 & 40. S4C receives a subsidy of £80 million per year from the licence fee pot.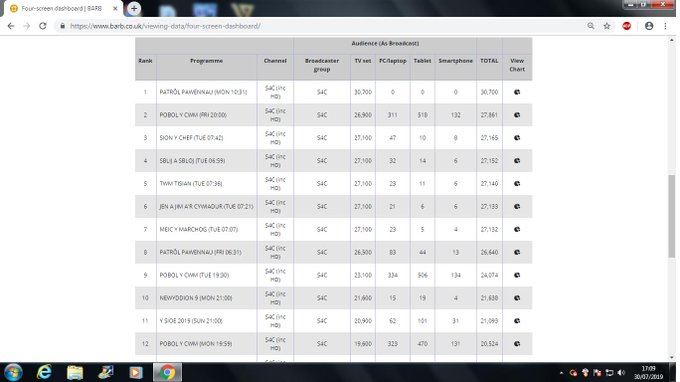 On week ending 07-Jul-2019
#S4C showed just ONE programme that got more than 30,000 viewers – an episode of soap opera Pobol y Cwm. S4C receives £80 million from the licence fee pot each year, but has tiny audiences for almost all of its programmes. It exists for political reasons.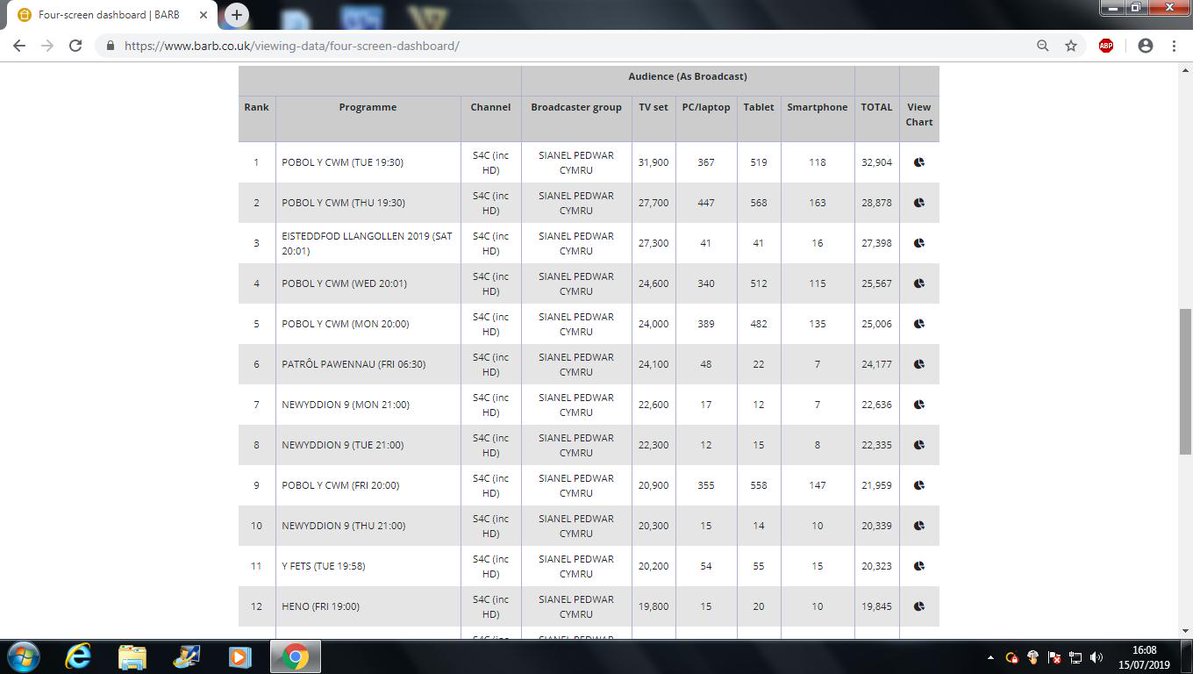 Well are you satisfied that in Wales £80,000,000 a year is squandered on the consistent failure of S4C to generate any kind of valid audience on a regular basis for its obscene subsidy?
Here are the official details of audiences for Welsh Language programmes in Wales for
the week ending 10-Mar-2019
a good week for S4C as it had a programme where at least a part of it was watched by just over 30,000 audience!
astonishingly that was in a week where Wales vs Scotland was on and clearly the vast majority watched the game with an English commentary! Hardly surprising I guess as probably less than 5% of the population of Wales have any meaningful qualification of an ability to speak Welsh and the common language of Wales spoken by all is English!
Do consider the following thoughts:
The top-rated programme, Cefn Gwlad, had 36,566 viewers. That is a rural affairs programme that is older than S4C itself.
The ONLY other programme with more than 30,000 viewers was Jonathan, a chat show hosted by former Wales rugby international Jonathan Davies. But even that had just 34,388 viewers, less-than-half-full Principality Stadium.
No episode of Pobol Y Cwm had more than 26,927 viewers in this week.
The Scotland v Wales rugby took place on the Saturday afternoon. It was available in English on BBC One. Just 22,752 chose to watch the Welsh language coverage on S4C.
The 15th placed programme was Ffermio with 19,348 viewers. So just how low were the viewing figures for programmes 20, 30, 40 and so on?
Minded that these figures include TV, PC/Laptop, Tablet & Smart Phone and ANYONE who tuned in during the full programme regardless of how briefly!
This is really dismal – minded that BBC Wales is experiencing its lowest Welsh Language audiences in its 40 year history.
This all speaks volumes of the abject failure of the Regional Assembly's ridiculous squandering of money it can not afford on trying to force this tiny minority language on the peoples of Wales – who ALL speak English – particularly disgraceful is the manner in which they are abusing children by forcing them to not only learn Welsh, even when they don't want to & have no use for it but are in so many instances trying to teach them consequential subjects vis Welsh.
This is sad for the peoples of Wales but tragic for the Welsh language in the long run, where many are viewing it as Afrikaans was in South Africa ass the language of division, hatred and apartheid. Look what happened in South Africa and the long term consequences for Afrikaans – now reveiled and all but dead!
And YOU contribute £80 Million a year to this folly in the subsidy of S4C – just imagine the other costs to the economy – little wonder that controlled by the superannuated busybodies in the Regional Assembly Wales is failing, with 1 in 4 homes living in poverty, the NHS £163 Million short on its budget, £43 M squandered on surveys, meetings & expenses discussing an M4 by-pass without an inch of tarmac laid.
I believe you will find on just these examples alone my point is made.
~~~~~~~~~~#########~~~~~~~~~~
.
Posted by: Greg Lance-Watkins
tel: 44 (0)1594 – 528 337
Calls from 'Number Withheld' phones Are Blocked
All unanswered messages are recorded.
Leave your name & a UK land line number & I will return your call.
'e'Mail Address: Greg_L-W@BTconnect.com
Skype: GregL-W
TWITTER: @Greg_LW
DO MAKE USE of LINKS,
>SEARCH<
&
>Side Bars<
&
The Top Bar >PAGES<
I try to make every effort to NOT infringe copyrights in any commercial way & make all corrections of fact brought to my attention by an identifiable individual
.
Re-TWEET my Twitterings
https://twitter.com/Greg_LW

To Spread The Facts World Wide

eMail:
Greg_L-W@BTconnect.com
ControversiallyGreg@Gmail.com

The BLOG:
https://InfoWebSiteUK.wordpress.com
~~~~~~~~~~#########~~~~~~~~~~