DO MAKE USE of LINKS,
>SEARCH<
&
>Side Bars<
&
The Top Bar >PAGES<
~~~~~~~~~~#########~~~~~~~~~~
.
OF WALES & THE WELSH
.
S4C: 'UK government doesn't understand its importance', nor do the people of Wales with its tiny audience! …
.
~~~~~~~~~~#########~~~~~~~~~~
Posted by:
Greg Lance – Watkins
Greg_L-W
eMail:
The BLOG:
https://InfoWebSiteUK.wordpress.com
~~~~~~~~~~#########~~~~~~~~~~
.
Hi,
it is sad that all too often Wales and her peoples are all too willing to blame anyone but themselves for their failures and failings.
Clearly, from this article, it can be seen just how grossly they exaggerate information.
It is an established fact that each week S4C recently does not draw 30,000 viewers for its highest viewed programs and that most programs on S4C are a dismal failure with audiences technically rated at zero!
Despite the abject failure of S4C to draw a viable audience, particularly considering its £80,000 pa subsidy, it is described as of great importance to Wales and the Welsh when clearly very few in Wales consider it even worth watching!
It seems fairly clear that S4C's failure can not be described as worthy of a salary of £40K+ for its director, though it is hard to disagree it is only a 2 day a week job!
S4C: 'UK government doesn't understand its importance'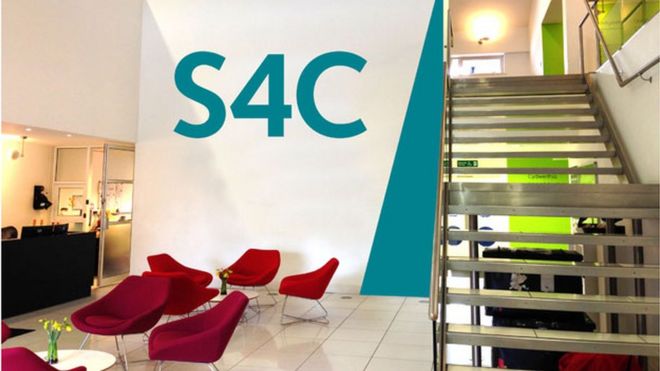 Delaying the appointment of a new S4C chairman has been a "basic mistake", a former incumbent of the role has said.
The UK government had planned to announce an appointment in the autumn.
But one has still not been announced with a spokesman saying the decision will be made in "due course".
John Walter Jones, S4C chairman from 2006 until 2010, said the UK government's department for culture "does not understand the importance of S4C in Wales".
It is believed the two candidates being considered are former Ofcom Wales director Rhodri Williams and Coleg Cambria chief executive David Jones.
"They've known since the middle of the year. The post was advertised then," said Mr Jones.
"Six months to appoint one person?
"I don't know how many appointments they make in a year, but they should know when and what the timetable should be – and then they should follow it."
Recruitment began in June for a replacement for Huw Jones ahead of his departure in September after eight years.
The job advert specified that it expected the successful candidate to begin in the autumn.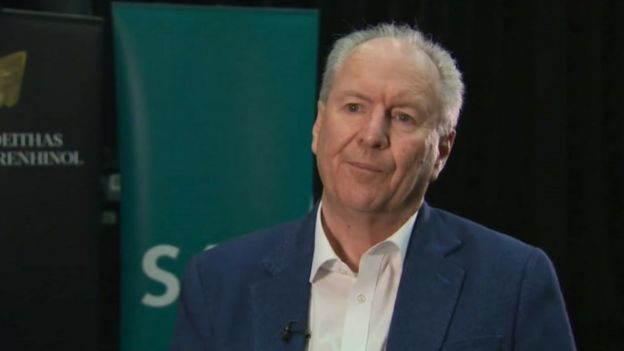 The S4C chairman receives a salary of £40,000 for the equivalent of two days' work a week.
Among their commitments they must chair monthly board meetings, attend public meetings and industry events.
John Walter Jones, who preceded Huw Jones in the job, said: "Any organisation without a leader is at a disadvantage."
He added: "The effect of that is that you leave a body like S4C, a public body that spends public money, without a permanent leader, without a captain at the helm.
"And that to me is a fundamental mistake.
"What if something happens politically? What if there was a change in policy, where the new government is in question?
"Who, then, is going to argue with a new government on behalf of the channel?"
Since Huw Jones stepped down, S4C board member Hugh Hesketh Evans has been acting as chairman until a permanent replacement is appointed.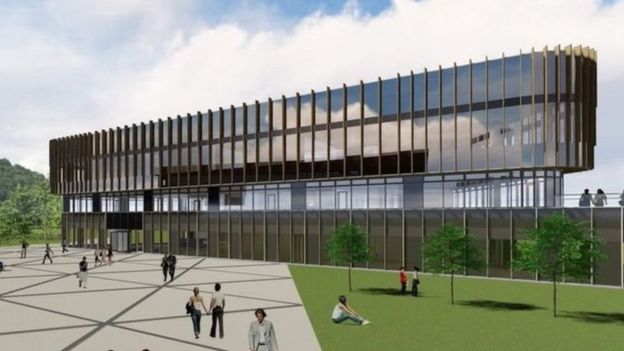 The process to find a new chairman began in June when the UK government advertised the post, with applications closing on 17 July.
In August an assessment panel carried out a "sift" of applications, and three people were interviewed in mid-September.
A source familiar with the process said David Jones and Rhodri Williams were considered "appointable" by the panel.
Their names were passed for consideration to the culture secretary, Nicky Morgan, the source said.
As part of the process, the successful candidate must appear before a joint meeting of the Welsh affairs select committee and the digital, culture, media and sport select committee for a pre-appointment hearing.
'To the wire'
S4C said it was a matter for the UK government, and reiterated that Hugh Hesketh Evans was chairing the board on an interim basis.
According to John Walter Jones the forthcoming general election underlines the need for there to have been greater planning around appointing a new chairman.
"Gatland is leaving Wales today after the game they lost this morning, and there will be a successor to him announced and in office," he said.
"It's the same everywhere.
"I'm surprised that DCMS has allowed this appointment to go to the wire without an announcement. Especially under the current political circumstances."
A Department for Digital, Culture, Media and Sport spokesman said: "This is an important decision for S4C and the people of Wales, so it is only right that we take the time to make the best appointment possible.
"We have made sure that S4C has an interim chair in place since 1 October so that it can continue to operate effectively, and we will announce the new chair in due course."
To view the original article CLICK HERE
NB:
in the interest of accuracy material in the main text in blue was written by someone other than myself.
When in black text the wording 'Welsh Language' means the 'Language of the peoples of Wales' and is therefore the majority language ie 'English'
The ancient language of parts of Wales, varied as it is, as spoken by a tiny minority in Wales is called 'Welsh' or 'the ancient Welsh language'
~~~~~~~~~~#########~~~~~~~~~~
.
Posted by: Greg Lance-Watkins
tel: 44 (0)1594 – 528 337
Calls from 'Number Withheld' phones Are Blocked
All unanswered messages are recorded.
Leave your name & a UK land line number & I will return your call.
'e'Mail Address:
Skype: GregL-W
TWITTER: @Greg_LW
DO MAKE USE of LINKS,
>SEARCH<
&
>Side Bars<
&
The Top Bar >PAGES<
I try to make every effort to NOT infringe copyrights in any commercial way & make all corrections of fact brought to my attention by an identifiable individual
.
Re-TWEET my Twitterings
https://twitter.com/Greg_LW

To Spread The Facts World Wide
'e'Mail Address:
The BLOG:
https://InfoWebSiteUK.wordpress.com
~~~~~~~~~~#########~~~~~~~~~~