DO MAKE USE of LINKS,
>SEARCH<
&
>Side Bars<
&
The Top Bar >PAGES<
~~~~~~~~~~#########~~~~~~~~~~
.
OF WALES & THE WELSH
.
Yet Another Example Of The Irresponsible Folly Of 'Yes Cymru' …
.
~~~~~~~~~~#########~~~~~~~~~~
Posted by:
Greg Lance – Watkins
Greg_L-W
eMail:
The BLOG:
https://InfoWebSiteUK.wordpress.com
~~~~~~~~~~#########~~~~~~~~~~
.
Hi,
Rage against the machine
A storm of protest has followed the controversial Wales independence rally after public support was proclaimed by a 'neutral' body, and the media coverage of it has been slammed, The Eye can reveal.
The mainstream media in Wales reported that more than 5,000 people marched in Merthyr Tydfil on Saturday calling for independence, following similar rallies in Caernarfon and Cardiff, although some have questioned whether the figure is accurate.
Commentator and former Wales and Pontypool rugby captain Eddie Butler spoke at the rally and said: "I've been waiting for this moment, this awakening, for a long time".
He was joined by the one time Wales and Everton goalkeeper Neville Southall, as well as the poet and playwright Patrick Jones.
But fury was sparked among football supporters of Merthyr Town FC after the club tweeted its support and said: "Sorry we can't be with you, but we stand in solidarity".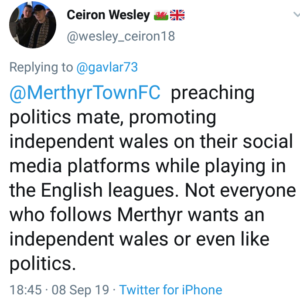 There were even pictures of key figures at the club wearing the organiser's tee shirt along with links to their Twitter account.
The rally itself appeared to attract huge support and many celebrities attended.
Mr Jones, who is from Blackwood, said he is not from "a traditional nationalist background" but his attitudes changed through "a crystallisation of what Brexit has unleashed".
He believes the Yes Cymru campaign group which organised the rally, wants to build a "tolerant, inclusive, moralistic, idealistic" Wales.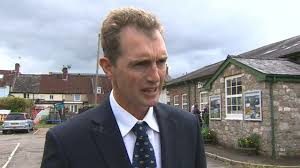 "That's a society I want to be part of", he said.
Yet the stance by Merthyr Town FC was not appreciated by some supporters.
One fan said it was "preaching politics" another warned that he was now giving away his flag supporting the club.
But Yes Cymru proudly proclaimed the fulsome media coverage of the march, and on its website it published links to BBC Wales, as well as Walesonline.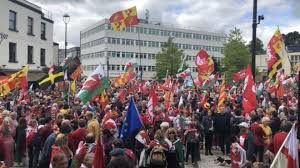 The media coverage has though caused dismay among some, and the numbers at the rally have been queried.
One journalist told us about the 'report' on the BBC Wales website:  "It reads like an advert for Welsh independence, rather than a piece of balanced journalism.
"The march was the lead story on the website."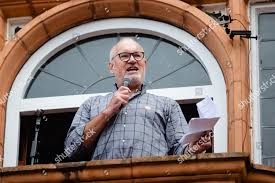 Three rallies this year have attracted large crowds, with reports of up to 10,000 in Caernarfon in July and about 3,000 in Cardiff in May.
The contentious original tweet from Merthyr Town FC has now been deleted, and it appears a backlash to the aims of the march is underway.
A Welsh Government spokesman said it was: "fiercely devolutionist and firmly believes in a strong union, which respects and reflects the distinct identities and interests of the UK's four nations".
It seems a shame the views of Welsh football fans who oppose independence have not been respected.
To view the original article CLICK HERE
Not being much interested in watching sport despite my enthusiastic interest in participating in the past, and football being a matter of indifference to me Phil Parry's article inspired me to do a little digging!
Here is some background I have managed to dig up:
Apparently there are four tiers of English football with professional status.
The fifth tier, which is called the National League, is a mixture of professional and semi-professional clubs.
Below the fifth tier teams ie. sixth tier & lower, it is semi-professional, and their leagues are regional, hence they are called the 'pyramid system'.
In the early 1990s, there were three Welsh clubs, Cardiff City, Swansea City and Wrexham, well established in the professional ranks of the English pyramid system.
At semi-professional level, however, there were a number of Welsh clubs playing in the English regional pyramid system.
Alun Evans, was at that time the Secretary General of the Football Association of Wales, fearing the global governing body FIFA would remove Wales's status as a national team and force a Great Britain team to be formed. Evans felt the best way to prevent this was to form a League of Wales.
I gather, a number of clubs were very unhappy about this. There were two main reasons:
Transport links between North and South Wales have always been poor, mainly due to lack of need through history & the deep divisions which have always existed in the Welsh region, throughout history, with the various tribal factions all too often at war with each other.
As a result the lower end of the English pyramid being regional, it is clearly much easier to make day trips eastwards to neighbouring parts of England than to travel the length of Wales.
Being part of the League of Wales would inevitably have meant regular long coach journeys the length of Wales, and staying in hotels overnight, which over the course of a season would be a considerable expense for the lower-income semi-professional clubs, which many could not have sustained.
Thus as part of the English regional pyramid, clubs could realistically make most fixtures as a single day return journey, by coach.
Also if the club was to have ANY future ambition to hold professional status, they would need to stay in the National pyramid system. For example, the old Newport County had professional status until it went bankrupt in the late 1980s. A new club then reformed and started at the bottom of the English pyramid, but they had dreams of regaining their professional status someday.
One of the most bitter episodes in the formation of the League of Wales was the court action involving the reformed AFC Newport (as they were then known).
Newport AFC even had to play their matches outside Wales for a few years!
That particular story had a happy ending as Newport County (as they were eventually renamed) climbed up the English pyramid and in 2013 rejoined the fully-time professional ranks after a 25-year absence.
The only 'carrot' incentive for joining the League of Wales was that the more successful clubs would be able to enter European competitions. However, they would join these competitions at the very early preliminary stages and would usually be knocked out by clubs from minor European countries. 'Glamour ties' against big European giants have been very, very rare.
Today, Wrexham play in the fifth tier of the English pyramid system. The old Merthyr Tydfil FC went bust and reformed as Merthyr Town FC in 2010 – they were effectively relegated three divisions, but have since regained ground and are now playing at the same level as when the old club went bust – the Southern League Premier Division, effectively the 'seventh tier'.
In other words, Merthyr Tydfil are one of very few Welsh clubs still playing in the semi-professional ranks of the English pyramid system, making their tweet in support of 'Yes Cymru' both irresponsible and as absurd, divisive and damaging as the folly of an independent Welsh region!
Not least, as responsible football clubs had realised, due to the deep divisions in Wales and the resultant lack of cost-effective North-South travel.
NB:
in the interest of accuracy material in the main text in blue was written by someone other than myself.
When in black text the wording 'Welsh Language' means the 'Language of the peoples of Wales' and is therefore the majority language ie 'English'
The ancient language of parts of Wales, varied as it is, as spoken by a tiny minority in Wales is called 'Welsh' or 'the ancient Welsh language'
~~~~~~~~~~#########~~~~~~~~~~
.
Posted by: Greg Lance-Watkins
tel: 44 (0)1594 – 528 337
Calls from 'Number Withheld' phones Are Blocked
All unanswered messages are recorded.
Leave your name & a UK land line number & I will return your call.
'e'Mail Address:
Skype: GregL-W
TWITTER: @Greg_LW
DO MAKE USE of LINKS,
>SEARCH<
&
>Side Bars<
&
The Top Bar >PAGES<
I try to make every effort to NOT infringe copyrights in any commercial way & make all corrections of fact brought to my attention by an identifiable individual
.
Re-TWEET my Twitterings
https://twitter.com/Greg_LW

To Spread The Facts World Wide
'e'Mail Address:
The BLOG:
https://InfoWebSiteUK.wordpress.com
~~~~~~~~~~#########~~~~~~~~~~